Childless couples in Jammu can now visit the all-new clinic of Medicover Fertility in Jammu
Medicover Fertility, the Global leader in providing fertility solutions worldwide, has recently launched a new state of the art fertility clinic in Jammu.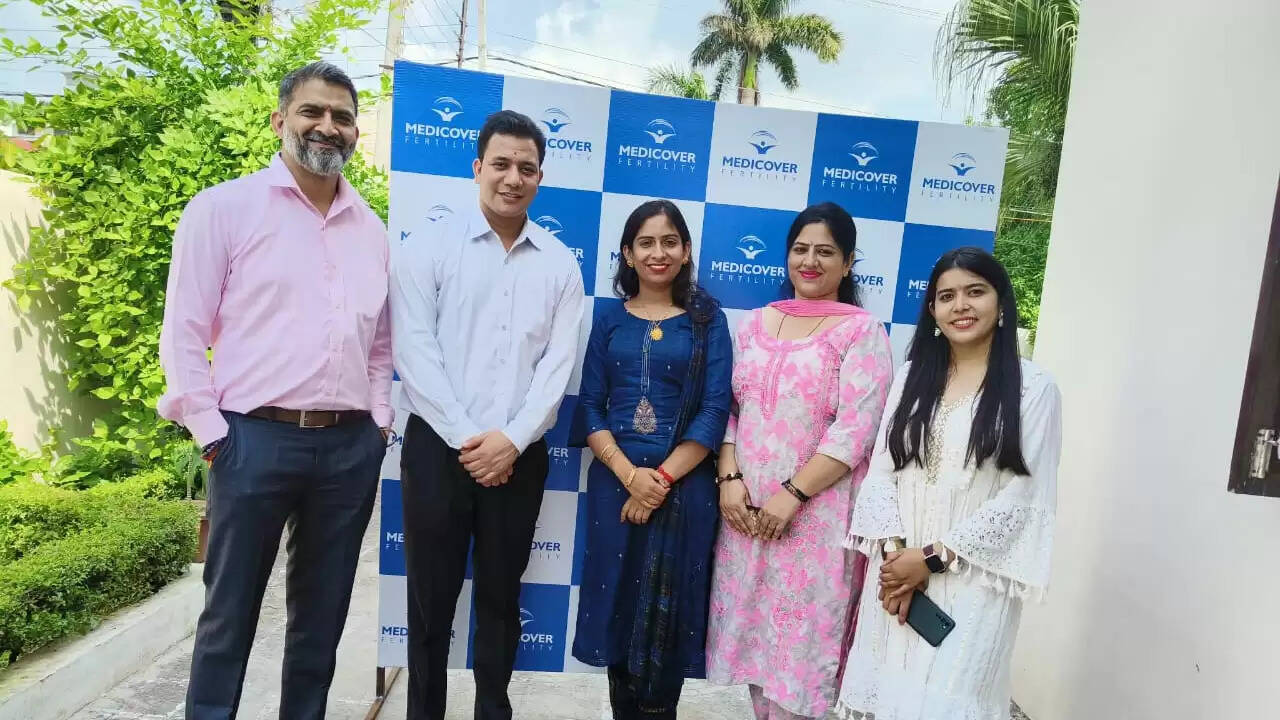 Jammu : Medicover Fertility, the Global leader in providing fertility solutions worldwide, has recently launched a new state of the art fertility clinic in Jammu. With 26 years of legacy in the arena of assisted reproductive medicine, Medicover Fertility brings in the most advanced fertility solutions to the Northern region of the country.
The Medicover Fertility Clinic, located at Gandhinagar, was inaugurated by Mr. Manmohan Sharma (Managing Director- Medicover Fertility), in the presence of Dr. Shruti Gupta (IVF Specialist - Medicover Fertility), Mr. Naveen Rekhi (AGM – Compliance), Mr. Kamal Singh Rana (Regional Business Head – Medicover Fertility) and Mr. Rajesh Singh (Regional Sales Manager – Medicover Fertility) on 03 August 2022.
Situated Earlier at & partnered earlier with Ankur Maitrika Hospital, Medicover Fertility realized the importance of opening its own full-fledged clinic at a central and easily accessible location. The new location and clinic will make it more convenient for the people of Jammu & its nearby areas (Udhampur, Ramban, Reasi, Poonch, Doda, Sambha, Rajouri, Kathua & Katra) to access fertility treatment.
The clinic will provide all the counselling and testing facilities for men and women in Jammu itself, so couples struggling to have children in Jammu may visit the clinic for their fertility treatment. Furthermore, couples will be able to access Medicover Fertility's world-class technology, highly trained doctors, and IVF laboratories at its Chandigarh clinic.
In addition, Medicover Fertility will also organize free consultation and testing camps from time to time in different areas to assist more and more people. Infertility has become a public health issue in India. Unfortunately, 1 in 6 couples in India faces fertility problems during their reproductive age, which prevents them from embracing parenthood naturally.
However, if they seek medical help at the right time, the cause can be easily diagnosed and be treated with treatments like IVF, IUI or ICSI. The increasing cases of failed pregnancy due to the disorganized lifestyle changes, unhealthy habits & late marriages are elevating the demand curve for fertility treatments in India. Conversely, the absence of fertility centres in remote places has caused many people to stay deprived of quality treatment.
Therefore, at Jammu clinic, we look forward to delivering the highest standard of individualized clinical care to infertile couples, and they will also get the option to pay the cost of treatment in interest-free installments," said Mr. Manmohan Sharma (MD- Medicover Fertility). "It is our vision to bring quality and affordable solutions to couples struggling to attain parenthood, and we want to ensure that their journey to parenthood is a happy and seamless one.
We believe that there is a need for transparency, no compromise in ethics and strict compliance to National and International standards when it comes to Fertility treatment, along with the latest enhancements in reproductive medicine.
By expanding our presence across India, including big and smaller cities, we are going to realize this vision.'' said Dr. Shruti Gupta (IVF Consultant- Medicover Fertility) About Medicover Fertility: Medicover Fertility was established in 1985 to deliver several specialized investigative procedures for infertility, giving couples the best chance of accomplishing a successful pregnancy.
This Europe based fertility chain stands apart from others in its vision of making fertility care available for all, even people living in remote places. For 26 years, Medicover Fertility has been able to provide couples with the joy of parenthood and is known for its high success rate and transparency. This is the reason a Medicover baby is born every 3 hours around the world.
Visit Medicover Fertility's www.medicoverfertility.in for fertility consultation with the highly skilled and experienced doctors of Medicover Fertility. Apart from Jammu, Medicover Fertility already has its presence in Delhi, National Capital Region, Chandigarh, Hyderabad, Secunderabad, Karnal, Yamuna Nagar, Kangra, Mandi, Bijnor, and Srinagar.
Share this story